Stylish Designer Dog Backpack
Get one today!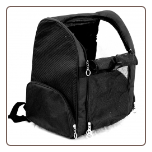 Click to enlarge image(s)
Designer Dog Backpack
$49.95
This designer dog backpack is available in black and burgundy colors. Made from polyester, your back pack for small dogs has a carrying weight capacity of 10 lbs.
As a dog carrier bag, your backpack dog carrier is very comfortable and is intended to be used as a carrier bag for your small dog . It is an airline approved dog backpack.
The adjustable and soft padded straps on this small designer dog backpack, together with the sturdy lightweight frame, distributes your dog's weight evenly. The hard floor pad in this designer dog backpack offers excellent support for your dog
Your airline approved designer dog backpack fits over your shoulders easily. As a shoulder dog carrier bag your dog backpack is also a wonderful dog backpack for hiking, bike rides, shopping and parks.
For added safety, your backpack is equipped with a leash attachment for your dog. Also, you will find the two zippered side pockets on this dog backpack very useful.
| | |
| --- | --- |
| Front view dog backpack | Burgundy designer dog backpack |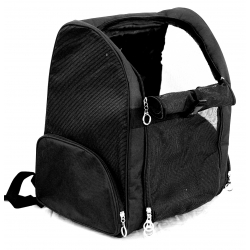 Enlarged image of dog back pack with side mesh
So now your pet dog can safely accompany you wherever you go - hands free in its backpack. The front mesh on your backpack for your dog provides adequate ventilation and visibility.
As an ideal dog travel bag, the backpack dog carrier measures 14"W x 19"H x 10"D.
If you prefer the dog camping back pack below, click on the image or this highlighted text dog camping backpack.
PLEASE NOTE: Due to the limitations of digital imaging and the color settings on your monitor, the colors shown may not be exact.

CURRENTLY OUT OF STOCK
| | |
| --- | --- |
| Dog Backpack dimensions: | D 10" x W 14"x H 19" |
| | |
| --- | --- |
| Adjustable soft padded straps with your dog back pack | |
| An airlines approved back pack for your dog | |
| Mesh front on the dog backpack for ventilation & visibility | |
| Leash attachment inside the backpack for added security | |
| Two zipped pockets on the side of your dog backpack | |
| Sturdy lightweight frame supports the dog backpack | |