Dog Faux Leather Carrier Bag
Get Yours Now!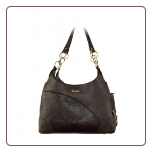 Click to enlarge image(s)
FAUX LEATHER DESIGNER DOG CARRIER BAG
This is a black designer dog bag that combines form and fashion. Your faux leather designer dog bag is a top quality dog bag that is constructed from quilted faux Ostrich skin and faux leather. This faux leather construction ensures that your small black dog bag is durable and lasts a long time.
There are several features in this designer dog bag. The mesh windows in both ends of the dog hand bag allow your dog to have good visibility and air flow into the dog bag, while the large zippered panel allows easy access into, and exit from the dog bag.
The dual hand straps affixed to your dog carrier bag are sturdy so you can use the dog bag as a dog hand bag with ease. The imprinted dotted design in the front of your designer faux leather dog hand bag carrier adds a touch of class.
This quilted ostrich skin/faux leather dog bag is equipped with two large pockets in the front and back with snap closures. For additional storage, your designer dog leather bag has an interior pocket, and, for added security your airline approved dog travel bag comes with inside leash attachment.
So if you're going shopping, take your small dog with you in its attractive designer dog carrier hand bag. This same designer dog bag is useful when you need to travel on an airline. Since it is an airline approved dog travel bag, the journey for you and your dog is made comfortable.
As you might expect. the interior insert in this black faux leather designer dog bag is removable. This feature allows easy cleaning of your dog bag, whether you use it as a dog hand bag or dog travel bag. Simply a superb designer dog carrier bag to own.
Your faux leather dog bag measures; 15.5"W x 8"D x 10"H
PLEASE NOTE: Due to the limitations of digital imaging and the color settings on your monitor, the colors shown may not be exact.
| | |
| --- | --- |
| Faux leather dog carrier bag | 8"D x 15.5"W x 10.5"H |
| | |
| --- | --- |
| Airline approved dog leather carrier bag | |
| Large zippered panel for easy entrance to your dog hand bag | |
| Large pockets on the front of your dog bag with snap closures | |
| Imprinted dotted design on the front of your dog carrier bag | |
| Quilted faux ostrich skin and faux leather construction in your dog carrier bag | |
| Dual hand straps to safely carry your black designer dog bag | |
| Interior leash attachment in this dog bag for added secuirty | |
| Mesh windows in both ends of your black designer dog carrier leather bag | |