Designer Houndstooth Dog Carrier/Hand Bag
Get Yours Now!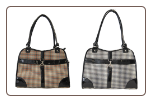 Click to enlarge image(s)
$49.95
Designer Houndstooth Dog Carrier/Hand Bag

You will enjoy wearing your classic high end style dog bag carrier. Your hound's tooth-print shoulder dog carrier is complete with patent imitation leather trim that really makes the dog bag stand out in a crowd.
Made from polyester fabric, your small dog bag in houndstooh print with faux leather trim, is very comfortabale and ideally suited for a dog travel carrier/hand bag. The dog carrier bag has pockets on both sides.

For easy access, your dog shoulder tote bag carrier comes with a two zipper top. One side of your dog carrier tote bag has a mesh opening for visibility, and the other side of the dog bag zips open. Your hounds tooth print shoulder dog bag carrier is just classic.

This small designer dog travel tote bag is available in three colors: red & white, black & white and brown & white and your designer dog travel bag will carry your small dog up to 10 lbs.

Houndstooth dog carrier travel bag colors showing side mesh, zip opening and double zip top view

So don't hesitate. Enjoy all the benefits of your designer houndstooth dog bag. The faux leather trim adds a classic look, while the easy access at the top as well as the side pockets for the accessories make this dog travel bag a must have.

The shoulder strap of your dog carrier is also faux leather trim with a height of 11" and width 2".

Your designer dog carrier bag measures 14"x10"x7".

PLEASE NOTE: Due to the limitations of digital imaging and the color settings on your monitor, the colors shown may not be exact.
| | |
| --- | --- |
| Dog bag measurement: | 14"x10"x7" |
| Height of dog bag shoulder strap: | 11" |
| Width of dog bag shoulder strap: | 2" |
| Dog weight for this carrier bag | 10 lbs. |
| | |
| --- | --- |
| Pockets on both sides of the dog carrier | For placement of your accessories |
| Two zipper top on the bag | For easy accessibility |
| Faux-leather trim around the dog bag | Gives the bag a classic look |
| Faux leather shoulder straps on dog bag | Enhances the appearance of your carrier bag |
| Dog carrier bag holds up to 10 lbs | Confidently place your dog in this bag |
| Dog shoulder bag made with polyester fabric | Sturdy dog bag |